The Buyer's Easy Guide to HR Software
HR (Human resources) software solutions—also called HRIS (Human Resources Information Systems), HRMS (Human Resources Management Systems) or HCM (Human Capital Management) software—make managing a large or growing workforce more efficient.(just click on the heading to jump to that section):

by Sat Sindhar Managing Director Last Updated: December 13, 2018
1. What Is Human Resources Software?
Human resources (HR) software solutions—are software systems used by small and large businesses for better employee management—also called Human Resources Management Systems (HRMS), Human Resources Information Systems (HRIS) or Human Capital Management (HCM) software.
These solutions streamline the traditional HR functions of benefits administration, personnel tracking and payroll. But in addition to increasing your productivity by automating many of these administrative processes, HR software can also support you on a strategic level, by helping you to recruit, develop and manage your company's most valuable resource: its people.
However, not all HR systems are the same. Some help you with the simple, administrative side of HR (such as keeping employee records or creating policies). Others help you with the more strategic side of HR (such as training, recruitment and performance).
And there are also different types of implementations of these systems. Traditional on-premise or the more widely used cloud, web or online systems such as People HR
2. Different Types of Human Resources Software
Functional Differences
HR software can support three distinct areas of HR – administrative HR, workforce management, and strategic HR. Some HR systems specialise in only one of these areas, whereas others cover a mixture, or even all three.
Administrative HR is the more traditional side of HR, and is something that almost every company needs. Very small companies might find that they can get by using manual methods like paper forms and spreadsheets, but most companies find that once a critical mass of employees is reached, finding HR software becomes a big priority.
Workforce Management is the side of HR that handles things like shift patterns, holiday requests, attendance and workforce structure – it is still a fairly administrative side to HR, but one that goes beyond the basics. With larger workforces, it can become very difficult to keep track of all this using manual methods like spreadsheets.
Strategic HR is the side of HR that is all about investing in your people in order to grow your business and reduce staff turnover. This includes things like organising performance reviews, developing your company culture, recruiting top talent and increasing employee satisfaction rates – a lot of HR systems are designed to help you with these areas.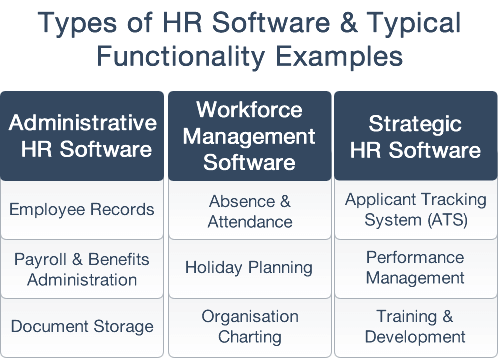 Technical Differences
As well as the functional differences between systems, most Human Resources Software solutions will fall into two distinct categories: Cloud HR Software, or On-Premise HR Software.
In a nutshell, Cloud HR Software is accessed online, and On-Premise HR Software is installed on your company's computers.
Cloud HR Software
Also known as SaaS (Software as a Service) HR Software, you access Cloud HR Software online via your internet browser. This normally costs a set monthly fee instead of a large up-front cost, and will usually include technical support from your provider. With Cloud HR Software, you don't need any internal I.T. resources to keep it running – all of your data is securely stored on remote servers, and your provider is responsible for any technical maintenance or system updates.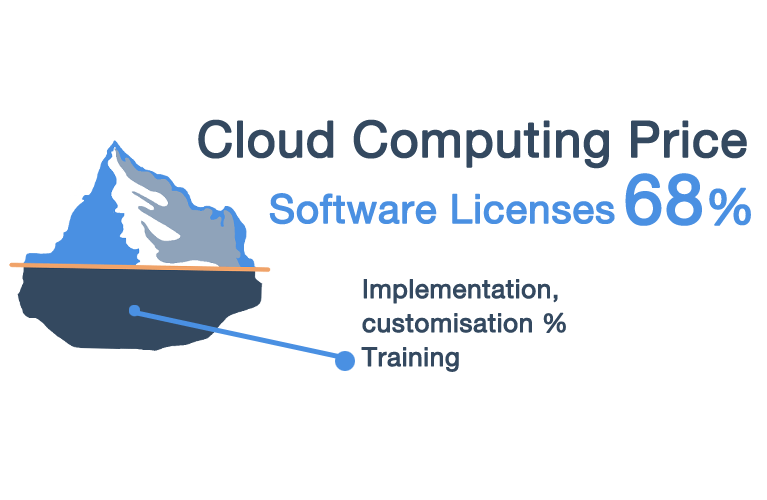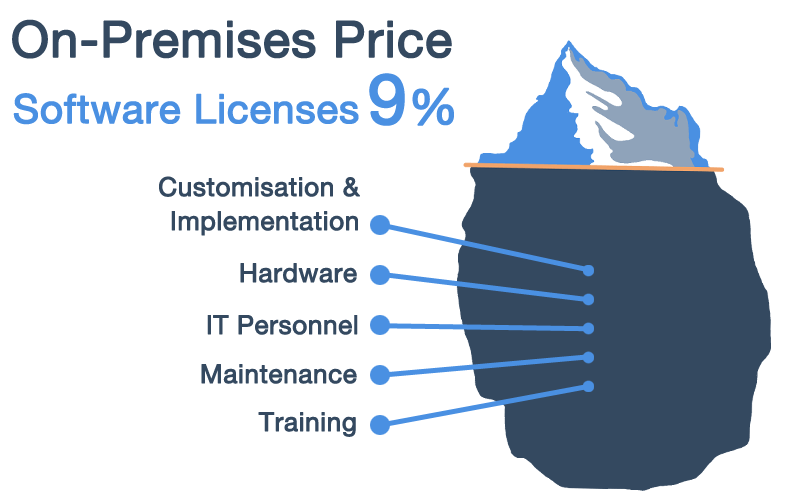 On-Premise HR Software
On-Premise HR Software is installed on your company's computers, and maintained locally by your internal I.T. department. This will normally cost you a one-time fee at the beginning, and there will often be a regular licence fee to pay for however long you continue using the software. With On-Premise HR software, you are responsible for storing all data on your local servers, and although some providers include technical support, you will likely need an internal I.T. department to keep things running smoothly on a day-to-day basis.
3. Common Feature Chart
This table will help you understand the range of features offered by different Human Resources Software providers. It might help if you save this chart, or print it off, and then mark which features would be useful for your company – you can then use this as an HR software feature checklist when comparing providers.
Employee Database
An individual record for each employee, stored within a central database. This lets you store and access basic details about each employee, such as Contact Information, Job Role and Start Date.
Absence & Holiday Management
A way to employee attendance, often including a tracking system for unauthorised absences, and a booking system for holidays.
Training Records
A place to add your company's training programmes, and to record your employees' progress.
User Permissions
This allows you to assign limited system access to other members of staff – for example, you might wish to allow managers to approve holidays, but not process leavers or new starters.
Document Storage
A place to upload or create company documents, such as Company Policies, Employment Contracts, or Letters.
Timesheets / Rotas
A way to create shifts and working patterns for teams, departments or entire workforces.
Task List
A smart way to stay on top of deadlines – some task lists are auto-generated based on employee data within the system (e.g. "Update John Smith's Right To Work Information"), others let you add tasks manually.
Mobile Optimisation
HR software optimised for mobile will work just as seamlessly on your tablet or smartphone as it will on your PC or Laptop.
Payroll
A feature for tracking salaries, bonuses, bank details, tax information and anything else pay-related. Many Payroll systems can automate things like tax calculations and regular payments.
International Settings
The ability to toggle different currencies or languages – some HR systems may also include National Holidays for your calendar that are relevant to your team's geographical location.
Performance Management
A way for you or your management team to review employee performance. Some HR systems offer basic appraisal functionality, whereas others offer more sophisticated and interactive ways to review performance, such as 360 Feedback.
Custom Screen Builder
A way to add your own custom information fields within employee records, instead of being limited to the pre-defined fields included from your HR software provider.
Benefits Administration
A way to manage employment perks that are not monetary – for example medical or life insurance policies.
Organisation Charting
An automatic organisation chart, based on the employee information you provide when adding employee records to your database.
Visual Reporting
An upgrade from basic data queries – visual reporting is a way to generate nice clean reports that give specific statistics and insights about your workforce, based on the data stored in your system.
Audit Trail
A way to track any activity that has happened by any user of your HR Software – useful for companies where multiple employees will be given access to the system.
Asset Management
A way to track company assets that have been given, or loaned, to employees – such as company cars, computers or phones.
Case Management
A process for taking employees through HR procedures such as disciplinary hearings.
Employee Self Service
The ability for your employees to log into your company's HR Software – this normally gives them options such as requesting holidays, updating contact details, and completing performance reviews (depending on the other features the system offers).
Alerts & Reminders
Some HR systems can alert you if important dates are coming up (such as expiring documents), or if something has been forgotten (such as sending an employment contract to a new starter).
Data Queries
The ability to search your database and pull off basic data reports – such as all employees in Department X, or total hours worked between XX and XX.
Clock In / Clock Out
An automatic system that generates hours-worked based on clock-in time and clock-out time. Some systems offer this manually, others can be linked with physical scanners at your office.
Applicant Tracking System (ATS)
A way to manage recruitment, Applicant Tracking Systems will often include features such as the ability to publish vacancies, a way receive applications, and a method for organising or rating candidates based on the strength of their application.
API Integration
A set of technical instructions that will allow a computer programmer to make the HR software work with other applications.
4. Deciding What You Need
Before you sign your life away to the first HR Software provider you set eyes on, let's take a look at what you actually need – after all, you don't want to end up paying for a feature that you're never going to use (or even worse, paying for something that doesn't give you what you need).
What works for a large, international corporation might not necessarily work for a fresh-faced start-up. So, to help you work out what you might need, it might help to work out what kind of organisation you run:
Brand New Start-Up
So, you've just started a brand new business. You're feeling excited, you're full of ambition, and you're eager to succeed. It makes sense that you'll want all the latest and greatest technology, right? Not necessarily.
If you're a small team of 5 or less employees, with no plans to expand your team in the near future, then it could be more cost-effective (and just as fast) to do your HR admin manually. If you really want to find out what HR software could do for your business though, you could explore a few free trials, or even look for companies offering a free HR software plan to small teams.
Of course, if you're planning on hiring new staff over the next few months, then HR software could be exactly what you need – it will keep some of the administrative growing pains at bay, and it could even give you a competitive advantage. Take a look at Rapidly Growing for ideas on features you might need.
Small and Steady
As a small business, you don't need anything too flashy – but HR software could really help you streamline some of the more painful basics of HR administration.
Recommended features of an HR system for small businesses:
Essential HR Administration.
Look for features like an employee database and a place to store employee contracts, as these features will help you keep your workspace tidy, and will reduce some of the more headache-inducing aspects of staff admin.
Rapidly Growing
If you're preparing for fast growth, then you'll want at least some basic HR software to keep all incoming employee records together.
Recommended features of an HR system for growing businesses:
Essential HR Administration.
Look for a central employee database that lets you easily create new employee records as and when you need them. Features like document storage will be handy for any new employment contracts you'll be sending out, and you might want to consider something that tracks salary or payroll information.
Recruitment / ATS.
Depending on how fast you're growing, you might find recruitment functionality super handy. Look out for HR software that lets you create job adverts and publish them, as well as HR software that lets you track and assess all active applications – it will help you find the right people for the right jobs.
Established Mid-Sized Organisation
As a business grows, more and more systems and applications are introduced for running all different areas of the organisation. Many mid-sized businesses suffer from the problem of too many different software providers, amassed over a lifetime of busy growth. Right now, you are probably at the stage where you should consolidate as much as you possibly can into one single, sleek system – and this includes software that deals with HR processes.
Recommended features of an HR system for mid-sized businesses:
Essential HR Administration.Look for software with a sturdy employee database that is easy to navigate. You should be able to add employee records with ease, and run reports to find out basic information about your workforce as a whole. It's important to find functionality that lets you upload/create company documents, and it might be helpful to find HR software that can be synchronised with your Payroll processes.
Attendance & Shift Management Tools.Your workforce is probably big enough to warrant certain Workforce Management features. As a minimum, you'll want to be able to track absences and book holidays. It will also help if your HR system lets you create timesheets, rotas and calendar dates.
Recruitment / ATS.As a mid-sized business, hiring is probably something you do from time to time – an Applicant Tracking System could make this easier for you, as well as helping you find the best talent.
Workflow AutomationIt's essential that you have the ability in the system to define processes for common and repetitive tasks. This can take the form of basic triggers or more sophisticated workflow processes.
Employee Self-Service.If you have more than a handful of employees, you'll want to look for HR software with employee self-service functionality – this lets your staff directly access the HR software to perform basic functions like requesting holidays or updating contact details (it will save you or your HR manager a huge stack of time!).
Large Multi-Sited Organisation
As a large organisation with multiple offices and locations, it's really important to consolidate as many of your processes as possible – the more different systems you use, the harder it becomes to manage. Look for an HR system that comes with all the important workforce functionality under one tidy package.
Recommended features of HR systems for large businesses:
Attendance & Shift Management Tools.You'll probably want a system that integrates clocking in and out, shift patterns and rotas, special rules for zero hour contracts, and a way to automatically track critical information like unauthorised absences and holiday accrual.
Recruitment / ATS.Recruitment drives are so much more effective when you have specially-designed functionality supporting you every step of the way. Look for HR software that includes an Applicant Tracking System, complete with the ability to publish vacancies to multiple platforms, receive and organise incoming applications, store unsuccessful candidates for future recruitment drives, and add new starters straight from your recruitment pipeline to your employee database.
Employee Development.The bigger you are, the harder it is to keep track of your employees' personal development. Look for Human Resources software that lets you do things like track training programmes and perform appraisals. Ideally, you'll want software that lets you manage company-wide performance reviews, where your managers and employees can interact and the results can be stored for analysis further on down the line.
Employee Self-Service.This lets your staff login to their own accounts, and perform basic functions like requesting holidays and updating contact details. Choosing HR software with employee self-service can help large businesses in many ways – for example, not only does it reduce administrative churn, but it also supports employee engagement.
User Permissions.As a large business, you cannot expect one person to be solely responsible for all of your HR processes – you'll need to assign different managers and staff members their own unique permission sets, so that they can perform actions like authorising holidays or performing appraisals. Audit. You will need HR software that stores every single action that has ever been taken – this is especially important if you have multiple senior users on the system, as it will help you quickly track down and rectify any mistakes, as well as make sure key actions have been done.
Mobile Optimisation.You probably have a network of remote workers, external contractors and travelling sales reps who need to be connected with their teammates constantly – look for HR software that is optimised for mobile devices, so that your workforce can tap into essential functionality wherever they are in the world.
International Corporation
As a large organisation with multiple offices and locations all over the world, consolidation is key. Look for an HR system that comes with all the important workforce functionality, that can work seamlessly in all the countries you're stationed.
Recommended features of an HR system for large international businesses:
Essential HR Administration.You'll need HR software that handles all of the basics with extreme efficiency. Can you add employee records in bulk? Can you run reports that can be filtered to almost infinite detail? Can you integrate your employee database with your payroll department? HR is a complex industry, and international boundaries make it even more important to find a system that runs all of your essentials seamlessly.
Attendance & Shift Management Tools.You'll want to find a system that lets your staff register hours worked, access shift patterns and rotas, and you should look for special rules that cover zero hour contracts and international holidays. It's also vital to find HR software that lets you automatically track critical data like absences and holiday accrual.
Recruitment / ATS.As an international business, you'll need software that supports global recruitment drives, as well as local recruitment drives. Look for software with a sophisticated Applicant Tracking System that lets you publish vacancies to multiple platforms, manage your incoming applications, save unsuccessful candidates for future recruitment drives, and move new starters from your pipeline to your database as soon as you hit 'Hire'.
Employee Development.With large companies, it is tough to keep consistent track of staff development. You'll need software that lets you track complex, locally-defined webs of training programmes and initiatives; you'll need to perform appraisals and launch company-wide performance reviews; and you'll need a way to store and review all performance data for analysis later on.
Employee Self-Service. You'll want individual logins for all staff members so they can request their own holidays and update their personal contact details. Look for HR software with employee self-service, as it will help you reduce huge amounts of paperwork, and it will help you engage your staff.
User Permissions.You're going to need to assign different managers and staff members their own unique permission sets, so that they can perform actions like authorising holidays or performing appraisals, without accessing anything they shouldn't.
Audit.You will need to audit everything that happens on your HR system – look for software that keeps a digital record of every action, for tracking down issues retrospectively, or for making sure key actions have been done.
Mobile Optimisation.This is super important for international businesses, especially with a large network of home workers, independent contractors and executives who are constantly jetting around the world. Make sure your HR software is optimised for mobile devices, so staff can tap into essential functionality no matter where they are.
International Settings.Pretty obvious, but make sure your HR software is suitable for any country you operate in – can you change the currency and language settings to match those your workforce will be using?
5. Top HR Software Companies in the UK - 2018 Reviews
Here is a list of some of the main HR Software providers in the UK – we've included a link to their website, a short description of their software, and an indication as to whether they're suitable for Small, Medium, or Large businesses.
Recent Events You Should Know About
Payroll Software "Namely" Raises $50 in Venture Capital. US-based payroll and employee benefits software provider Namely secured another $30million of venture capital in 2017, boosting their total outside funding to $157.8million. Namely today has 650 companies as customers globally, totalling some 120,000 employees and $4 billion in processed payrolls. It seems that HR software is becoming a really hot investment in 2017 all over the world, with cloud-based providers such as Namely beginning to seize the majority of the market share.
Octopus HR Bought by Cascade HR. Cascade HR – an enterprise HR software company designed for large businesses with over 10,000 employees, and owned by the IRIS Software Group – announced in April 2016 their acquisition of Octopus HR. The sale was completed for an undisclosed sum, and is expected to see Cascade HR now able to cater for the opposite end of their usual target market – the micro and SME market. Octopus HR had been running for 12 years by the time 2016 hit, and boasted over 350 cloud customers.
Forbes Predicts the Rise of Cloud-Based HR Software. Forbes expects 2016 to be a big year for cloud-based HR software, and predicts that this could be the year where traditional licensed HR software becomes rapidly replaced in favour of more modern, cloud-based HR technology. This is perhaps partly because of how many cloud-based HR systems now provide full mobile accessibility in the form of apps and mobile optimised websites so that companies can handle HR on-the-go. But it is also thought to be because HR software is no longer just for the HR administrators and I.T. consultants – did you know that in 2016, there are more than 150 million across the world who use cloud HR software?
6. How to Make a Case to Your Finance Department
Once you've found the perfect HR system for your organisation, there's one more hurdle you might need to tackle: How to get permission from your purchasing department to buy the HR software.
This is normally only an issue in larger organisations, where the people who will be using the system are not directly involved with the company's finances. For example, if you are the HR Manager for a large company, you might need permission from your Finance Director before you can invest in an HR System.
If you are in this position, then you may need to submit a Purchase Order Approval Request to your finance/purchasing department/director. To help you do this, here is a quick guide on what to include with your request:
1. What Is This Purchase?
Clarity is key – state in basic terms what you are seeking permission to buy. For example:
"This request is for the purchase of a modern, cloud-based HR system, which will replace our current method of spreadsheets and paper forms"
2. Why Do We Need It?
This is where you should list the benefits the HR software will bring to your organisation. Think back to when you were comparing the features you would need and why, and use this information for this segment. For example:
"Reason 1: Employee Performance. We previously had no way of tracking the results of appraisals and performance reviews to efficiently compare year-on-year progress – our new HR system includes a Performance module, which gives us solid statistical insight into the progression and personal development of our employees."
3. Who is the Supplier?
Your purchasing department will need to know which provider you want to use for your company's HR system – give the name, and a link to the company's website as a minimum, as they may wish to check the provider's authenticity.
4. Why Was This Supplier Chosen?
It could help to include the thought process you went through when comparing suppliers – such as anything that your chosen supplier offers that is not available from competitors. Demonstrating a thorough research process will show your purchasing department that you are serious about your request, and reassure them that it is a sensible move. For example:
"I found 12 different suppliers that met all of our requirements (list the requirements). I then narrowed this down by 'nice to have' features (list the features), which gave me 3 choices. I settled on this specific supplier because they offer a faster implementation process, and include free training for all staff at the company"
5. What is the Cost?
Remember to state any up-front costs, any on-going costs, and if applicable, state the package/membership plan your company needs.
6. How is Security Handled?
Many finance departments will want any new software purchase to be reviewed by the technical team – it will speed up the process if you do the research for them in advance – particularly for HR software that is hosted in the Cloud.
Consider information such as:
Is the provider ICO Registered, and what is their reference number?
Where does the provider host your company's data?
How often does the provider back up their data?
Does the provider commission regular penetration testing?