Updated on 7/6/2023
HR systems are a rapid growth market.  With so many options available, especially for small and growing businesses, all with varying price points, it can be difficult for SMEs to know exactly how much a HR system will cost in 2023, and what factors may influence prices.
Our research shows that the average expected cost for a HR system in 2023 is £7.57 per person per month - £2,763 a year - as of August 2021. This is for a core or basic HR software package.*See our calculation.
For 50 users the average is £298 per month (£3576 per year) for 100 users the average is £607 per month (£7284 per year) and for 250 users the average is £1,484 per month (£17,808 per year).
This provides a reference point but is not the full story. Many factors change how much a HR system costs. As People HR is a leading supplier of HR systems, we want to draw on our own experience to help you get a full picture, sharing some of the factors that can influence the costs of a HR system. We also cover what you may want to consider before you purchase, and how to prove ROI of the system you choose.
Let's begin...
What factors will affect the cost of your HR system in 2023?
Before we delve into how pricing of HR systems works, let us look briefly at the main factors behind costs.
Your business needs: Functionality will depend on what the HR system needs to achieve for you. Some businesses will need a HR system that only covers core HR tasks, others will require modules such as learning, employee engagement or recruitment.
Business size: As many HR system providers cost per employee, per month, your business size will have a major impact on the cost of your HR system in 2023.
Payment model: You can opt for monthly pricing with light contracts or buy in for a year or more. The longer the contract, the better the deal you are likely to get.
Software updates: Software updates may represent a hidden cost of a HR system you had not anticipated. If you have hardware, this may include maintenance or updates yearly.

Cost of implementation: Migrating your data and cleansing it as well as setting up a HR system can be labour intensive. The costs you pay may need to factor in any charges in development or project management or for a consultant.

Quality of customer support: You may be happy with online help guides and chat bots - or prefer a more hands on, human led approach to customer service with your account. The level of support you get will be reflected in the price.
Your changing business needs: What works today as the perfect HR system may not work in the future. Your costs may increase as your business needs change, requiring more modules and features.
Below, we explore these one by one and uncover ways to reveal the ROI of a HR system. 

HR system costs - key considerations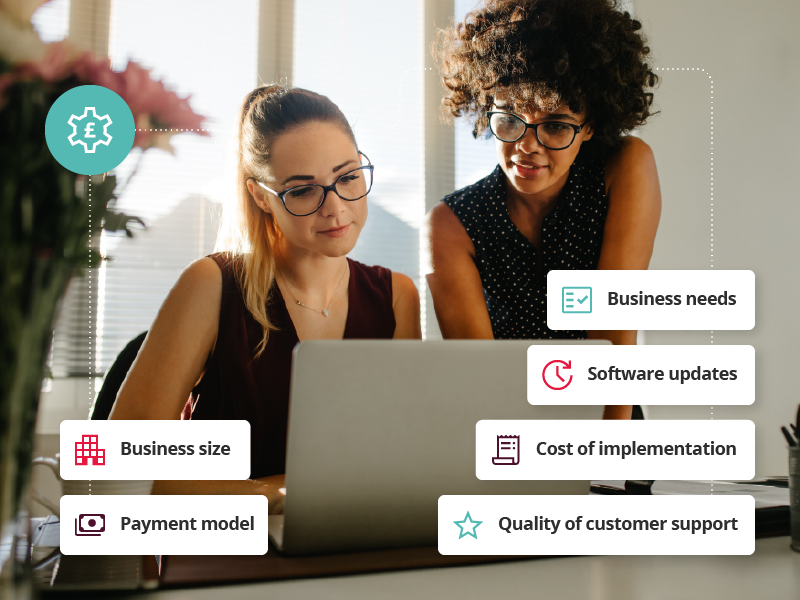 The number one factor that affects costs of HR systems is what it provides you with in terms of features to meet your business needs. We're facing turbulent times right now and this will impact your priorities as an SMB. Research shows that 70% of HR professionals highlighted the cost of living as their most significant challenge for 2023. This was closely followed by retention (69%) and recruitment (55%). Source: The HRDirector.com.
Despite the current climate, the most important features of HR systems will be unique to you. We suggest creating a 'hit list' of your biggest problems that you would like your HR software to solve.  While certain features add to the costs of HR systems, the overall benefit of them can be significant if you do have specific needs/requirements to fulfil.
You may want to have functionality such as:
Employee self-service
Flexible work management for freelancers/ gig workers
Absence management
Payroll processing
Recruitment / Onboarding / Applicant tracking
Training
Performance management
Multiple country/ currency options
Learning and development options
Reward and recognition features
Mobile first access
(To help, look at this study from Cleveland SHRM into the areas over 100 HR professionals that have  increased spending in).
Not all packages and features are created equally, and it is critical that you ask questions of any HR software provider to see what you are paying for and if that represents true value for money in your HR systems costs.
Often the lowest advertised price will reference a core or 'basic' HR package, and to meet your needs beyond this, will need to be customised with modules or add-ons. This increases the cost.
Our own software packages at Access PeopleHR work in this way.
Starting with 'HR essentials' at £3 per employee, per month, users get:
HR management
Document storage
Absence management
Beyond that, our Professional Package for £5 per employee per month includes:
Essential HR
Employee Self-Service
Absence Management
Mobile App
E - Signature for all documents
Meanwhile, our Enterprise option offers all of this but also adds in the following for £7 per month, per employee.
Recruitment and Applicant Tracking 
Video Recruiting Talent
Performance Management
+ Unlimited Custom Screens
What is better? If you have no need for recruitment or applicant tracking, there is no reason the lower cost HR package would not be the best for you. View our HR HR software pricing.
Learn more about our HR system. 
Your business size will also influence the costs of HR systems you look at.   
Some HR systems are designed to be used by medium to large businesses. They therefore require a minimum monthly spend / minimum number of employees.
Other HR systems are designed for enterprise / large businesses. They have many unique features and customisation options that are not needed by most small or medium businesses. They may also require hardware / in house installations and can come with costs that go into 6 figures.
Many HR systems are designed for SME / growing businesses and as such, cater to small numbers of employees, with fewer or no requirements or restrictions for a level of minimum users and a buy online, use online model. We sometimes refer to this as 'plug in and play'. Learn more about our HR software for small businesses.
Your HR system payment model
There are a few different models of HR system, all with different pricing.  
Pay once for on-premise HR systems: These are typically charged as a one-off cost and are installed in your business on your company's server, with your HR data stored in a HR database such as SQL. They are best suited to large businesses and enterprises who need elevated levels of customisation and who can have an expert or consultant managing the project.
Pay based on a quote for what you need: Also known as quote-based pricing, this is where providers will offer a quote-based plan where the cost is estimated according to your unique needs. You suggest the features you need and for how many users and pay one yearly fee and a set up cost.
Cost per user/ cost per feature: This is the most common HR system pricing model, known as a software-as-a-service or SaaS, where you purchase a set of features for the number of employees you have at a cost per month, or per year. The vendor hosts the software on their servers and you can access the system through the internet.  
For more information on the different HR software pricing models, read our detailed guide. We cover 'subscription', 'license' and 'free', and the pros and cons of each option.   
Which is best?  
This is dependent on what you need. The SaaS model for HR software is more flexible for scaling and Path's 2021 HRIS Software Project Report shows a definite preference (98%) for cloud technology over 'traditional' on-premises systems. SaaS based cloud HR software systems are usually quicker to implement and involve minimal commitment in terms of hardware and cost.  
See the difference between SaaS and on-premises HR systems
Software updates are another area that could change what you pay for a HR system.
In most subscription models, maintenance and updates are included and you will not pay for patches and upgrades.
However, some in house systems may include a cost and you also need to consider annual fee increases.
To budget effectively, find out if there are any charges for updates, and if new features will be included in the price you pay per month. 
If the business launches a brand-new interface or packages, will you have to upgrade? How will you be charged?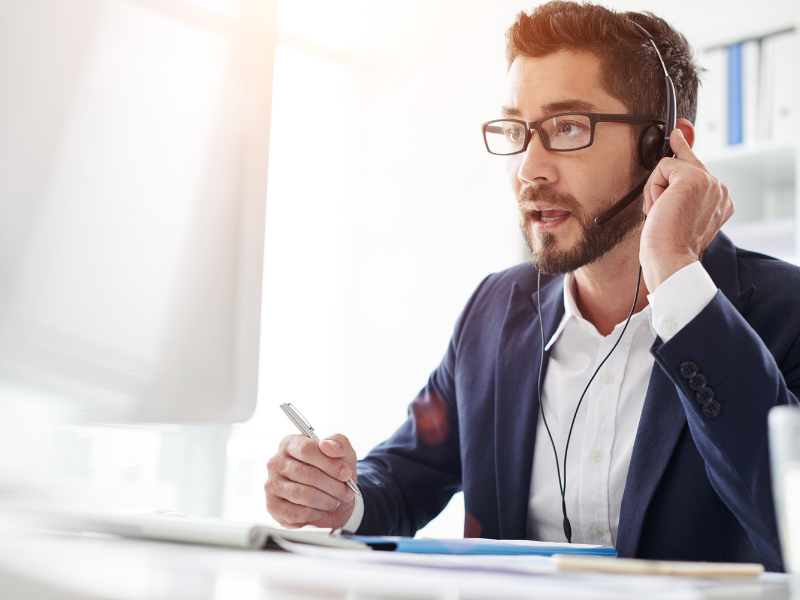 Not being aware of potential add on costs of implementation could lead to expensive overruns that eat into your budget.  Consider having budget for:  
Training: You will need to train employees on how to use the HR software. If you need more time or support, this will cost more.
Customisation: You may need to pay for the software to meet your specific needs/ integrations. What would you need that's 'off the shelf'? This will add to the costs.

Deployment: If you are opting for a SaaS system it is likely the provider will handle all the security and system update tasks, but it is worth checking that there are no charges here.
Migration of data: You can usually migrate your own data, but you may want extra support moving a legacy system or help with data cleaning by the vendor or a consultant, which will cost extra.
Customer service and support: You may feel you would thrive with a dedicated account manager, in which case, there may be additional costs.
Process management: 37% of people in a SCHR survey felt that resourcing was the biggest reason that implementation of HR software fell short of their expectations. You may need to pay for development time from the vendor or a third-party to support you, which will add to costs.
The People HR software implementation process is completed in just four simple steps. Visit the aforementioned link for more information or watch our video below. Our very own implementation expert, Gareth Garbutt, explains the PeopleHR process clearly.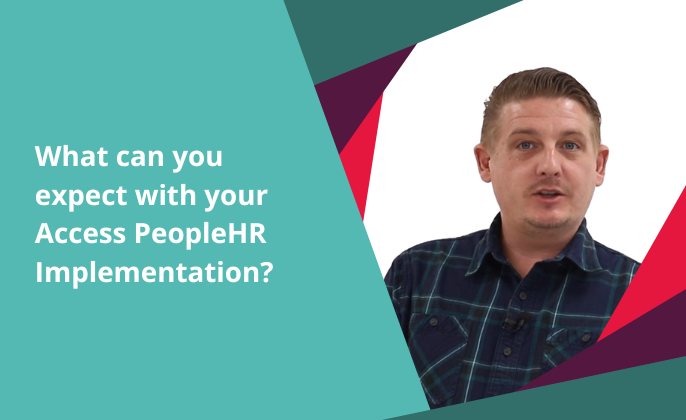 Additional HR software implementation resources: 
Don't overlook implementation. It's one of the most important parts of the process once you've selected your provider. Give our most recent HR software implementation articles a read:  

How can you determine the ROI of your HR system?
Now you've looked at the different factors that will affect what you pay– it is time to calculate ROI.
A report of 1,892 companies found there was a 20% increase in the number of respondents who view HR as contributing strategic value after using a HR system.
You could highlight this added value, demonstrate improved employee engagement, give evidence of decreased recruitment spent, or indicate improved compliance/ data resilience.
Here is a list to start benchmarking against.  
Learning Capabilities 
Performance
Absence
Compensation Understanding
Company Understanding
Innovation
Productivity
Workforce Readiness
Acquiring Top Talent
Retention
Engagement
Compliance Risk Management

Example ROI chart:
Area to examine 

Guidance 

Aims and goals  

Learning Capabilities 

 

What percentage have taken basic training, or have completed their training in the last year?

 

Use HR system to prompt and remind people to undertake learning.

 

Innovation  

How many employees have provided new ideas for the business in a survey or as feedback?

 

Use HR system to identify innovation ideas through surveys or planned line management interventions.

 

Retention  

What is your retention rate? Has this increased or decreased?  

 

Use HR system to engage employees further, analyse benefits uptake/ understanding and identify retention b manager.

Compliance Risk  

What % of employees haven't completed mandatory training?  

 

Use HR system to identify any employees without complete training and send reminders.

 

Absence   

 

Has there been a decrease or an increase in unplanned employee absence?  

 

Use HR system to prompt employees to book holiday in good time and flag opportunities to raise awareness of holiday entitlement.   

Compensation Understanding   

 

 

What % of employees are aware of
your employee benefit package and
how to access it?  

 

 

Use HR system to send prompts to personal devices, tracking visits and overall benefit uptake.

 

Company Understanding   

 

 

What % of employees are aware of
your brand values or company direction?  

 

 

Use HR system to promote core values and track the uplift of understanding.

 

Workforce Readiness   

 

What is the time from onboarding to 'ready to work'?

 

Use HR system to direct all new employees to self-service learning modules.

Acquiring Top Talent   

 

What % of candidates dropped out before being invited to interview? 

 

Use HR system to speed up request to interview times.

Engagement  

What % of employees have sent peer
to peer recognition in last year?  

 

Use HR system to identify unengaged employees and reveal reasons.
What should your HR system budget include in 2023?
Your HR system budget in 2023 may include a few areas such as set up, incentives and internal promotion as well as ongoing support.
The package itself – cost per month / year, calculated by the amount of employees you have OR as a onetime cost; 
Plus:  
Software updates
Cost of implementation
Customer support
Consultants to support deployment / HR databases
Consultants to handle administration
Consultants to support design and maintenance of the system
Any internal marketing / incentive costs  
Do not forget to ask about the final costs and ensure that in their cost breakdown that it reflects:    
How many employees you have
How you intend to pay (monthly / annually) - and if this warrants a cost reduction
What level of customisation you need
What charges they have around implementation
How and if they charge for updates / upgrades/ hardware
The support and customer care levels you need 
We hope that this has provided a comprehensive guide on how much a HR system could cost for your business, with all the right questions to ask a provider to stay in control. With so many choices, you are in a great position to get the package you need to drive real business change and ROI.  
At People HR, we want to answer all your questions. Why not read our helpful guide to HR software comparison.
And if you are ready, speak to an expert. We would love to talk more about the best options for you.
* Using tech radar and techjury to source the top ranked HR system providers for the UK market, we analysed a list of 11 major HR software providers' lowest possible prices for a core or basic HR package. From this we calculated the average cost for a HR system. We repeated the process to find the costs for 50, 100 and 250 users. Analysis included costs of Factorial, SageHR, Breathe HR, Zoho people, PeopleHR, Gusto, Deputy, Charlie HR, humaans, Staffology and Staff Squared.