About Child Action Northwest
Child Action Northwest supports young people, vulnerable adults and families to improve their resilience, connect through healthy relationships and access skills, training, and employment to help build a brighter future. CANW passionately believe that everyone has the right to achieve their full potential and work to improve the wellbeing and quality of life of young people, who have multiple needs, may live chaotic lives, have experienced Adverse Childhood Experiences, and often have ongoing or emerging mental health needs.
The charity has been supporting children and young people for 130 years, ever since the founding of Blackburn Orphanage in 1886 young people face different challenges today, social inequality is still significant. CANW now work with around 10,000 people each year and have grown from a Blackburn charity into an organisation with an extensive regional footprint that delivers a range of impactful programmes to those who need them.  CANWs roots supporting young people have stayed strong, and the charity remains one the last not-for-profit fostering agencies in the region.
The CANW Mission is to support children, adults and families across the country, ensuring that when life presents difficult circumstances, we're there every step of the way to make sure they get the support they need.
The CANW Vision is that everyone gets the support they need, when they need it, to navigate the challenges they face in their day-to-day life.
Child Action Northwest use a research based and data driven approach to develop a clearly defined theory of change for everything they do. It's important for the charity to be clear about the problems they are trying to solve, the interventions they are putting into place, and the impact that comes as a result.
With a turnover of approximately £6 million, CANW have over 220 employees based around the country who work to provide people with the opportunity to succeed in school, to grow up to enjoy healthy relationships, to have access to training and employment opportunities and to be successful in the world of work.
Going forward, CANW are working on a growth strategy to develop their charitable offering.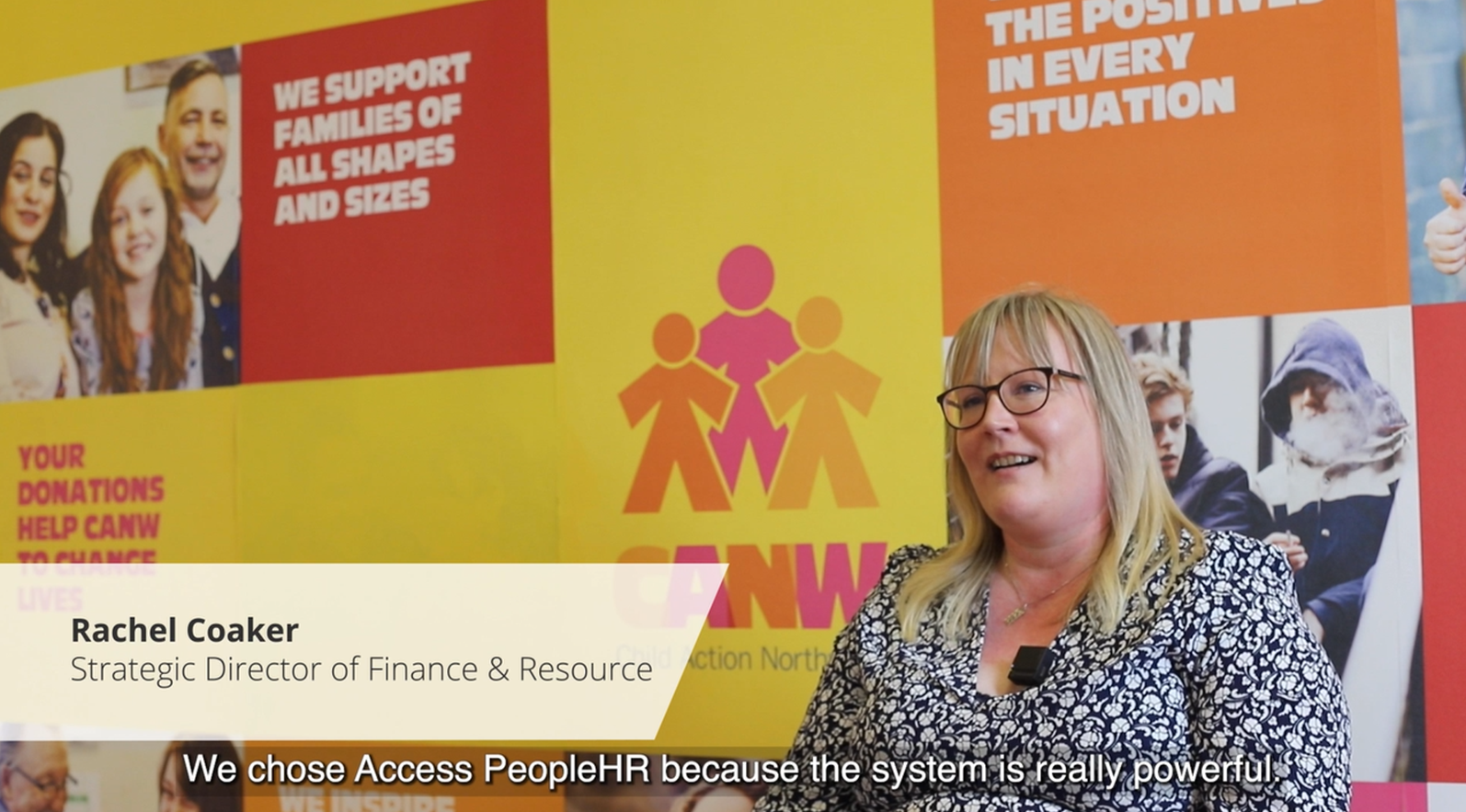 What challenges made CANW want to seek out HR software?
Prior to selecting Access PeopleHR, Child Action Northwest was operating with another cloud-based HR system.
The previous software lacked the functionality to support CANW, particularly with their recruitment needs, with the HR team relying on paper-based processes to fill their job vacancies. This was a time-consuming task, which was resulting in a lack of cultural buy-in from managers and therefore inconsistent working practices across the business.
"In the not-for-profit sector, there is a real sense of urgency to recruit staff as quickly and efficiently as possible, so they can go out to communities to deliver services and support to those who need it," explains Rachel Coaker, Strategic Director of Finance and Resources at CANW.
With their four-year contract with the previous supplier due to end, CANW recognised the need to go back out to market to seek alternative HR software that could meet their business needs.
Why CANW chose Access PeopleHR?
"As people struggled with the previous HR software, we needed to put together a clear business case for investment, with a list of detailed criteria in terms of how the software would support culture change, help our people in their everyday roles, and most importantly maximise use of our resources," says Rachel.
CANW researched the market for options which were available to them against their key criteria of: value for money; ease of use; and the aftercare support available. After a rigorous process, CANW produced a shortlist of 4-5 suppliers, before eventually selecting Access PeopleHR.
"We chose Access PeopleHR because the software is really powerful, flexible, and intuitive. Its capabilities and how incredibly user-friendly it is, have made it easy for our team to transition to using it. We have been particularly blown away by the recruitment module and the application tracking software (ATS)," says Rachel.
What benefits has CANW seen since using Access PeopleHR
Since going live with the recruitment software module, Child Action Northwest has experienced a substantial uplift in vacancy applications.
In the initial 4-6 months since launch, the HR team have received over 55 applications through Access PeopleHR, which is a noticeable increase on the level of applications previously received. The feedback from candidates has been that the process is simple, quick and easy to use.
"Access PeopleHR has allowed us to recruit employees quicker and more effectively, without delay. We have also been able to reach more applicants geographically to fill our roles with high-calibre candidates," says Rachel.
Additional benefits include:
Financial savings from a restructure of the team, as less resource is now needed to support the HR function within the business;
The flexibility of the logbooks and the functionality to be able to approve and sign documents through Access PeopleHR has allowed CANW to go completely paperless;
Access PeopleHR is driving cultural and organisational change, as well as innovation within the business.
4 min demo: Discover how PeopleHR can help your business
CANW's favourite thing about Access PeopleHR
As a charity, CANW require the majority of employees out delivering the necessary support and services to those who need it, so their back office needs to be as efficient, low cost, and lean as possible.
"Prior to using Access PeopleHR, the team were still spending 6-7 working days per month purely processing timesheets across the business. Spending this amount of time on transactional tasks was draining our resource unnecessarily," says Rachel.
With over half of their workforce working sporadically with unplanned hours, the HR team needed a modern and intuitive process to be able to monitor and record working hours and shifts.
"We knew when we selected Access PeopleHR that the system had a lot of capabilities that we could benefit from that we hadn't necessarily thought about when we went to market. One of the unthought of capabilities - and one of our favourite things - is definitely the timesheet software," continues Rachel.
The timesheet software module within Access PeopleHR, allows timesheets to be updated via desktop or the mobile app, anytime from anywhere.
"The Access PeopleHR timesheets module has significantly reduced the amount of time that our HR team were spending on the unnecessary transactional work involved in processing our timesheets. We went live at the beginning of April 2022, and in initial 6-8 weeks we already saw a significant tangible reduction in costs, and the timesheets module has definitely contributed towards this," explains Joanne Lever, Head of HR at Child Action Northwest.
Has CANW felt well supported by Access PeopleHR?
"Since our first interaction, the Access PeopleHR team have been enthusiastic, knowledgeable, supportive, and showed an ongoing momentum of kindness – all of which we knew we needed to make this partnership successful," says Rachel.
The Access PeopleHR team have worked closely with CANW to ensure they get the most out of the software and reap the benefits.
"From sale, we have received the highest level of support and even after signing on the dotted line, the support didn't change. The Access PeopleHR team have been responsive and a key factor to our success. We're really pleased we've implemented PeopleHR – we are thriving with it already - and would recommend it to anyone!" concludes Rachel.