Topics we'll be covering in the Sick Live Report 2023:
The number of people out of work due to ill-health is soaring, following a year of strikes, economic instability and a new understanding of what working life looks like outside of the pandemic.
While sickness absence rates are much higher than in 2020 and 2021, some of this can be attributed to the fact that people were furloughed, socially distancing and sometimes working through their sickness at home.
However, sickness rates are also markedly higher than in 2019, indicating that businesses could be facing an industry-wide issue as a longer-term impact of the pandemic.
Employees should feel that they can take time off when ill – but increased levels of sick leave can indicate a number of factors, such as burnout, stress, exhaustion, general illness, or other problems in the workplace.
HR software can help employers to manage their HR and people strategy to help manage absences as best as possible and spot common trends across dates, departments and employees and work with staff to see if there's any way they're able to help.
The current status of sick leave in the UK
To do a deep dive into how different industries are affected by the rise in sickness levels, Access PeopleHR gathered the data of absences recorded from over 2,000 small and medium-sized businesses to track sickness leave.  
Nationally, the report has revealed that there's been an increase of 45% in sickness absence rates since 2019.  
Each business recorded an average of 133 sick leave days in 2022 - up 30% compared to 102 in 2021.  
The average number of sick days taken across the UK in each company:  
2019 - 92 days of sick leave
2020 - 85 days of sick leave
2021 - 102 days of sick leave
2022 - 133 days of sick leave 
Access PeopleHR research highlights that overall, sick day levels have increased significantly in the last four years.  
This could be as a result of staff feeling that there's less of a stigma around taking a day off since the pandemic hit, following a renewed focus nationally on taking care of our health.  
However it could also be a sign of deeper issues such as burnout, stress or a general rise in sickness, either industrially, or on an individual or company-by-company basis.   
It's important for employers to proactively identify sickness rates among staff to spot any preventable issues before they escalate. HR systems can help you to easily track and analyse absence patterns, and identify where there's a problem on an individual nature. Alternatively, it can also help you to spot if there are common days among the year where staff tend to take absences, and if there's anything you can do to prevent this. 
Other ways to reduce sick leave include ensuring that your sickness policy is regularly signposted, encouraging a good work-life balance, and not dissuading people from taking sick days if they're genuinely ill, to avoid burnout.
An industry deep-dive
Access PeopleHR's research revealed that industries are faring differently when it comes to the number of staff taking sick leave.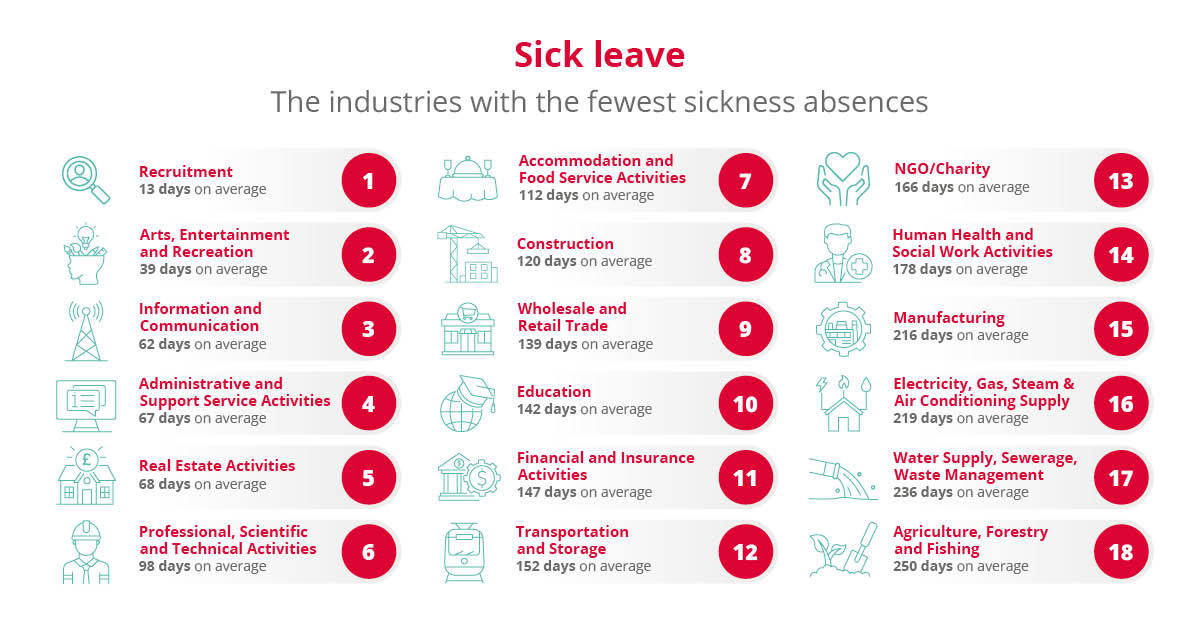 The majority of sectors have seen a rise in sick leave rates in recent years, with some rising at a faster pace than others.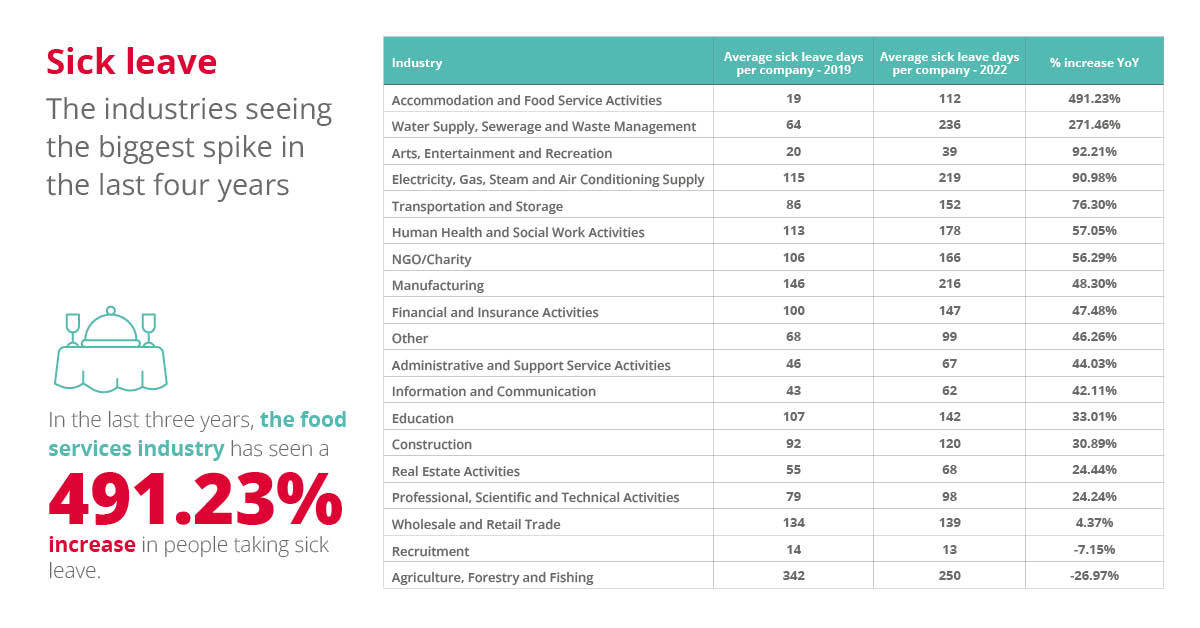 Restaurants and hotels are feeling the brunt of sick leave 
Those working in the accommodation and food service sector saw a huge spike overall, with a rise of 146% in recorded sick leave in the last year - from an average of 46 days lost per company in 2021, to 112 in 2022.  
This rise in absence could be partially down to the fact that many people in the food service industry and in hospitality were placed on furlough in 2020 and 2021, before lockdown restrictions from the pandemic were eased and eventually relaxed fully.  
However, the industry has also seen sickness leave skyrocket in the last four years, with a growth in absence of 491% since 2019.  
One reason for the huge increase could be due to increased concerns around hygiene and sanitation from consumers following the COVID-19 pandemic, leading to more people taking sick leave for things that they previously may not have deemed necessary, in order to prevent spreading a contagious illness.
The water industry saw sickness absence grow
The water supply, sewerage and waste management sector recorded an increase of 135% in sickness rates - from an average of 100 per company, to 236.  
And compared to 2019, sickness rates have almost quadrupled in the sector, with an increase of 271% in sick absences in 2022.  
Patterns of sickness absence in the water industry could be a sign that companies in the sector need to innovate and look towards their absence management systems to support employees.  
The current growth trajectory of sick leave could also be due to a number of planned projects across the country, as the government faces pressure over its handling of the water industry.
The Arts have been impacted
In third position is the arts, entertainment and recreation industry, which saw a 66% increase year on year - and a 92% growth from 2019. Similarly to the food service sector, this could be due to the fact that their work often involves being around members of the public, in locations such as libraries, theme parks, leisure centres, museums and historical sites.  
As a result, there may be more paranoia around sickness symptoms since the Covid-19 pandemic, as attitudes have changed since "the show must go on, no matter what", to a mindset of not feeling guilt for taking time off in the sector.
Sickness absence rates driven upwards in transport
Sickness absence among those working in transportation and storage have increased 44% since 2021, and 76% since 2019, according to the research.  
This translates to an average of 152 sick days per company in the last year - up from 105 in 2021. The transport industry has had a major spotlight on it in the last 12 months, with strike action.
The sickness rates could also be caused by an ageing workforce, or an industry that needs to take a second look at its current ways of working to establish if there are any other underlying reasons or patterns causing this rise in sickness leave.
Retail bucks the trend
The research leans towards the suggestion that those who are more customer-facing, and less office-based are likely to report the biggest growth in sickness absence.  
However the retail sector goes against the grain, with a more modest 12% rise in absences over the last year. Though it's still seen an increase of 56% overall since 2019.  
Agriculture, forestry and fishing is the only industry that has seen a drop in the last year - down by 3.8%.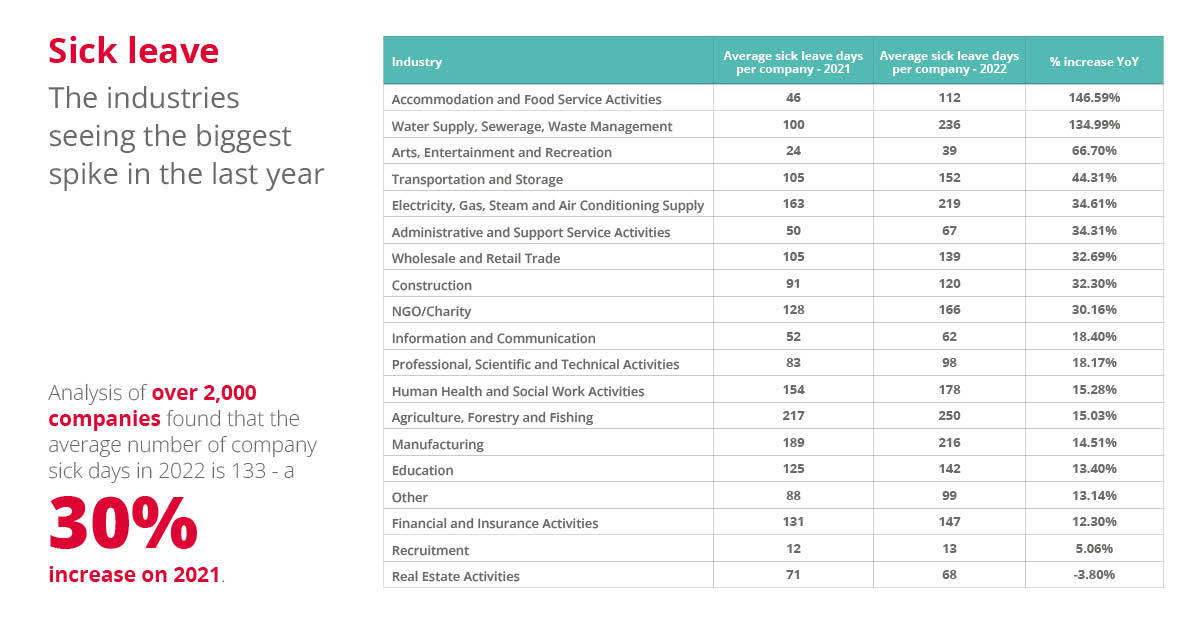 Sick leave - how has it impacted industries in the last four years?
Sick leave rates have not just increased over the last year – but also pre-pandemic. 2022 was the first year in two years where most industries reverted back to a level of normality.  
And yet, sick leave still increased despite the move to hybrid work across the UK. So it may be unsurprising that the most common industries that reported growths in sick leave are less likely to be able to work remotely - namely those in the arts, accommodation, catering, and retail industries. Even in utilities and construction - the industry often requires employees to visit sites, seeing a rise in 34% and 32% respectively.
How can businesses help to reduce sick leave?
It's inevitable - everybody gets sick, and should feel that they can take time off when they're ill. But how can businesses identify the common causes of absence?  
Recording sick leave management using HR software can help businesses to spot recurring problems, take action and determine whether you may need to conduct an attendance review.  
Not all software will match your immediate needs, and as your business grows, it can be hard to take note of all employees attendance, but the right business process can help to:  
Engage employees.  
Analyse retention and identify ways to improve it. 
Prompt staff to book holidays to reduce burnout.  
Send prompts for booking days off to personal devices.  
Identify unengaged employees and understand their reasons for absence.
Charles Butterworth, Managing Director - Access People, commented on the research:  
This report into the status of sick leave in the UK highlights the importance of businesses adopting a robust HR strategy as a first point of call when it comes to reducing sick leave. This includes a HR system, having clear policies and procedures, and offering tangible support to those that appear to be taking excessive sick days.  

This increase overall in the UK in sickness rates could be as a result of COVID-19, and people feeling that it's more important to take time off for their health, with less industry-wide guilt attached to taking time off work and a nationwide effort to remove the stigma associated with the 'badge of honour' mentality. 

On the other hand, it may be that people are experiencing more burnout and long-term sickness following the pandemic, resulting in new highs of sickness rates. No matter what, it's crucial that businesses act swiftly to identify the reasons for sick leave, and if they need to act.
Other benefits for employers to select the right HR software can be found in the latest People HR ebook, HR Software Buyers Guide for SMBs.

ENDS 
Methodology  
Access PeopleHR looked at the sickness leave data taken from 2,055 businesses using the People HR platform, in 18 sectors. It took data for the full years of 2019, 2020, 2021 and 2022 to understand the correlation between each year.  
Data correct as of April 2023.