A successful HR software implementation is key. It ensures you're fully prepared to use your system's features to their full capabilities. In this guide, we outline what you can expect from your implementation to guarantee a stress-free and seamless experience.  
The implementation is the final step in a lengthy process. You've evaluated your company's needs. You've set your budget. You've researched, shortlisted and selected your provider. Now it's time to get it set up – otherwise known as 'implementation'.  
It's during the implementation process that you get to experience the software – and how it sits within your organisation – for the first time. You'll learn how well it's received by your wider team. You'll get a feel for how easy it is to use and navigate. You will also be able to gauge the level of support and guidance you receive from your provider.  
Let's explore what steps you can take to ensure a successful HR software implementation.  
What does successful HR software implementation look like?
A successful HR software implementation for most businesses will be seamless, stress-free and even exciting. It's a step closer to achieving operational efficiencies by reducing cumbersome HR processes. From a practical perspective, a successful implementation will migrate your data without any glitches. Your team should also feel adequately trained and prepared to use the software with confidence. 
However, before you even get set up, your business will need to follow a series of steps to adequately prepare. Following these will contribute to the success of your implementation. 
Steps involved in implementing an HR system: 
Determining your businesses requirements 
Planning 
Setting design and scalability expectations 
Shortlisting and selecting a supplier 
Actual implementation 
What is PeopleHR's HR software implementation process?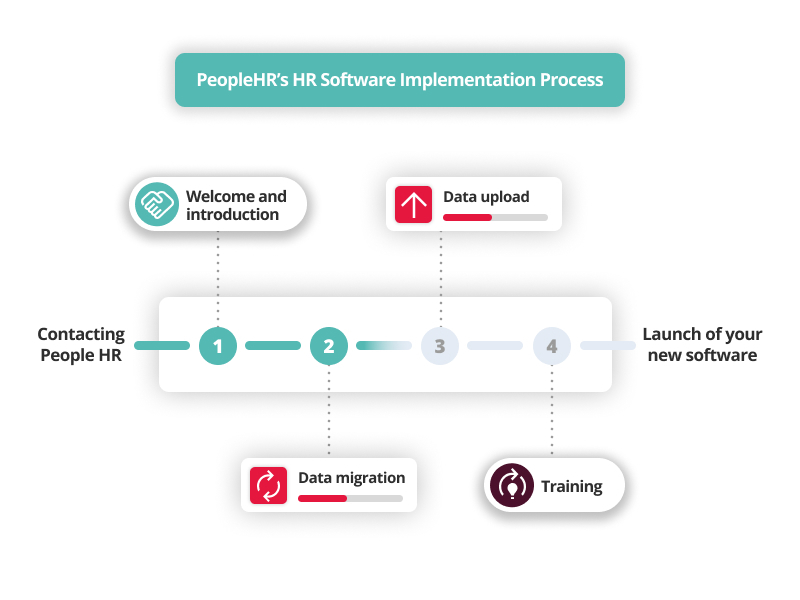 Most providers will have a page on their website outlining their implementation process. Before selecting a supplier, we strongly suggest reviewing this implementation page. It will make you aware of what to expect.  
Most HR software targeted at small to medium-sized businesses will follow a similar process. To give you an idea, here is the approach we take on how to successfully implement HR software.  
Welcome/introduction - You will be introduced to your point of contact and will receive a complete overview of the software. During this step, you will review and agree dates for implementation – as well as agreeing a launch date. 
Migration - This step involves moving your existing data onto your new HR software. We provide you with data migration templates and you will populate them accordingly.  
Data upload - Using the completed templates, we will upload it onto your new system. It also gets checked to ensure it is free from error and in the correct format. 
Training - When all the above steps have been completed, you will receive training in the form of E-learning or a training package. The level of training provided will depend on the package you have selected. For those on Elite, we will provide you with a 2-day, twelve-hour training session on all software features.  
This is a simplified outline of what to expect with Access PeopleHR. Implementation amongst other providers will differ. As we said before, it's best to enquire about the individual provider's implementation process.  
Why is a simpler process better?
SMBs generally approach us because they need a solution… and they need it fast! That's why a simple process is far more appropriate for SMBs – and why most HR systems specifically designed for smaller businesses work off a 'plug in and play' model. This means that the software is set up within a matter of weeks, rather than months.  
A convoluted implementation process will complicate the very thing you're trying to simplify. Again, that's why you should evaluate your chosen provider's implementation steps. This way, you'll get a sense of how simple the process is going to be, how long it's going to take and what level of investment (in terms of resource) you're likely to need.  

Key challenges faced with HR software implementation
There are challenges of HR software implementation worth noting. In this section, we're going to highlight these key barriers, outlining what you can do to avoid and overcome them. 
1. Poor support 
When you select a software provider, you need to feel supported from the word go. This means having a point of contact you can rely on to update you on progress or to respond to any queries or concerns you may have. This is particularly important during those early phases.  
Poor support and a lack of communication can lead to an unsuccessful implementation, ill-equipping your team to use the software effectively.
2. Not evaluating teams' requirements
In a recent article, we wrote at length about the importance of carrying out an HR process improvement assessment before selecting a provider. This includes evaluating your team's requirements. Consider what they need, how HR software can make their lives easier and what platforms will keep them engaged and motivated. Afterall, the whole idea of HR is to support your employees over the entire employment cycle.  
Whilst HR software will help to reduce your workload, it's important to consider your employees' requirements, too. For more information on how to choose the right HR software, read our article. 
3. Ensuring transfer of data is compliant
One of the biggest perceived challenges of HR software implementation is data security and compliance. By utilising HR software, you're trusting a company with your people data. And it's during the implementation process where this data is most vulnerable – especially if in the wrong hands.
Carefully consider your provider's data security measures. Are they signed up to a managed security service, such as Rackspace? Such organisations utilise certified cloud security experts to help secure your data across all hyperscale public clouds and private clouds.
This will ensure you have technical infrastructure in place which goes above and beyond regulation requirements. In laymen's terms, your employee's personal data will be safe. 
4. Adequate training
Even though you're probably looking for an easy-to-use system, adequate training is still essential. If you aren't adequately equipped to use the software and its features to its fullest, you will be missing out.  
So, what does 'good' training look like? It goes beyond just a 'one off' session. Training should be a continual process that takes place over the course of twelve months or more. An initial 'run-through' of the software with an expert is a great first step. But you should always have access to resources when you need them. This could be in the form of e-learning materials (such as videos and booklets) or bespoke training which you can book if needed. Bear in mind that additional training will likely come at an additional cost. Always check this with your vendor to avoid any surprises.   
If you purchase a higher tier package, you may be entitled to a day or two of mandatory training as part of implementation. This will likely be included in the price you pay. Again, it's best to clarify this with your chosen supplier. 
5. Change management
Change management can often get overlooked during implementation, yet it is one of the key challenges of HR software implementation. The introduction of any new business initiative will require a period of adjustment for a company. It's your supplier's responsibility to inform you of any changes likely to occur, and your responsibility to filter this down to your team.  
For example, whilst data is being migrated, there may be a day or two where employees will be unable to submit holiday requests or update personal details. This would only be a minor disruption, but something worth communicating, nonetheless. This will avoid friction and keep your team in the loop.  
Most SMB HR software providers will try their best to ensure any changes are minimal.  
Want to learn more about HR software implementation? 
By now, you should have some idea of what a successful HR software implementation looks like. You should also be aware of pitfalls to avoid which may lead to an unsuccessful experience.  
If you are in the early stages of your HR software research, look out for your chosen providers' implementation pages on their websites. Most providers will outline in detail what's expected during implementation. Here's a link to our 4-step implementation process.  
If you are shortlisting providers, feel free to try a demo of Access PeopleHR. It's the best way to ascertain whether we would be a good fit for your company. Alternatively, we're always on hand to answer any questions you have.  
You might be interested in: 
Some further resources you may be interested in – if you enjoyed today's read: