The complexity of compliance, the risk of errors, and the time-consuming nature of the process make payroll outsourcing an attractive option for small businesses and those with either limited resources or without the relevant internal knowledge. With so many intricate details and new and changing legislations to manage, payroll can be a daunting task. Handing over the reins to external experts can help to maintain compliance and free up management and HR time for developing the business in other ways.
What is payroll outsourcing?
Payroll outsourcing is the practice of paying a specialised third-party provider to take care of your organisation's employee payment responsibilities. Instead of handling payroll in house, you entrust the process to experts who will ensure that your employees are paid accurately and on time. Using an outsourced payroll provider gives you access to expert knowledge and industry-standard tools, freeing up time and money within your in-house operations. 
Many organisations opt to manage their payroll in-house instead, with an internal HR or payroll team taking care of all aspects of employee payments, often using payroll software. Deciding between in-house and outsourced payroll can be difficult, and could have a significant impact on the accuracy and efficiency of your employee payments.  
This guide will help you to get a better idea of whether payroll outsourcing is right for your business, while our article comparing in-house  vs outsourced payroll will give you more context about the differences between the options.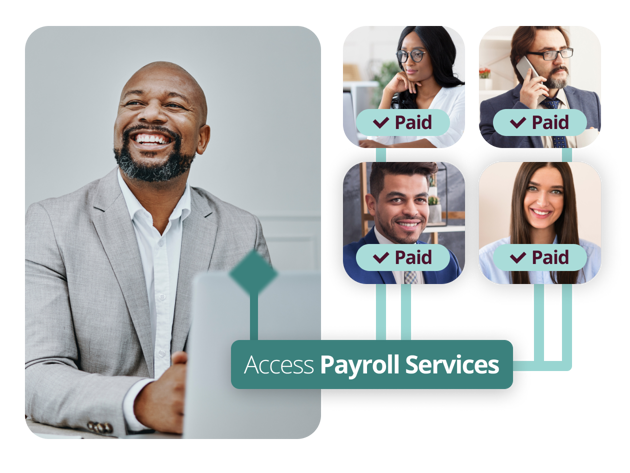 Benefits of payroll outsourcing
So why outsource payroll when you can manage it yourself? Here are just a few of the payroll outsourcing benefits your business can take advantage of by entrusting the process to an external provider.
1. Save time and money
Payroll outsourcing can save you both time and money by giving your business access to payroll expertise and technology to streamline the process. Depending on the size of your business, the monthly fees for processing your company's payroll might be significantly cheaper than employing an in-house payroll professional and/or investing in payroll software. Outsourcing allows you to reallocate resources to more strategic tasks, allowing your organisation to grow more efficiently.
2. Ensures compliance
Compliance is a critical aspect of payroll operations. It can be a challenge to keep up with ever-changing tax laws and legal obligations, particularly for small businesses with limited resources, or large businesses with many different types of employees. Payroll outsourcing providers specialise in this area and are equipped to ensure that your payroll processes adhere to all HR compliance requirements.
3. Reduced risk of payroll errors
Errors in payroll can lead to employee dissatisfaction, compliance issues, and potential legal troubles or fines, all of which can be devastating for a business. Choosing to outsource payroll helps to minimise these risks by leveraging specialised software and expertise to guarantee accurate and timely payments to keep employees, HMRC and your profits happy.
4. Access to expertise and resources
Outsourcing your payroll gives small and medium-sized businesses, or under-resourced departments, access to expert resources that they might not have otherwise. This ensures that your payroll is managed by professionals who stay up-to-date with industry best practices.
5. Improve employee satisfaction
Recent studies highlight the level of impact that payroll errors can have on employee wellbeing and productivity. Timely and accurate pay, therefore, can enhance employee satisfaction, leading to a healthier and more productive work environment and reduced staff turnover, which can in turn boost profits.  
Outsourcing payroll ensures that your employees are paid on time, and that they have access to expert support should they have any questions about their wages, tax, deductions or paid leave. For smaller organisations juggling HR challenges, getting payroll right every time is the best place to start addressing them.
6. Scalability
Thanks to the flexibility of digital platforms and cloud-based payroll software, many external providers can scale their services to meet your specific needs. Whether your organisation is growing rapidly or experiencing fluctuations in employee numbers, one of the biggest payroll outsourcing benefits is that it offers flexibility to adapt to your changing requirements.  
This removes the need for potentially costly software upgrades when investing in your own payroll software in-house, or the requirement to hire additional staff to handle your payroll requirements as you grow.
Considerations of payroll outsourcing
When deciding whether to outsource payroll, there are a few important considerations that you should keep in mind. As with any business decision, it's a case of weighing up the payroll outsourcing benefits against any drawbacks or complexities that could make it a less suitable solution for your organisation than managing it in house.
1. Cost
While payroll outsourcing is a feasible option for businesses of different sizes, it's essential to factor in all costs, including setup fees, monthly fees, and per-employee fees. Just like choosing an HR system, understanding the different pricing structures offered by payroll software providers will help you to find the best deal for your needs, ensuring you only pay for what you really need. Weigh this up with existing costs for managing payroll in-house, considering any additional staff or more advanced payroll software you might need as your business grows.
2. Security
As it contains personal and payment information about employees, payroll data is highly sensitive, and security is a paramount concern when outsourcing. Ensure that your chosen provider has robust security measures in place to protect your payroll data and is recognised and approved by HMRC and other industry bodies like CIPP.  
Be aware that security issues are one of the most common problems during integration when outsourcing payroll, so take extra precautions throughout the process.
3. Data ownership and control
Similarly, it's important to understand who owns the data and who has access to it. Bear this in mind when considering payroll outsourcing, as this could help you to decide between different providers. Make sure you have a clear plan in place for data retrieval in case you decide to terminate your contract with the provider at some point in the future.
4. Communication and collaboration
Effective communication and collaboration are key to any successful outsourcing partnership, but this is particularly relevant where prompt and accurate employee payments are concerned. A responsive provider can make the payroll outsourcing process smoother and more efficient from initial implementation and integration through to the ongoing daily operations. Assess the level of support offered by each of the providers you're considering and, where relevant, invest in a more comprehensive package to ensure the best level of customer service.
5. Service level agreements (SLAs)
Payroll outsourcing providers tend to offer a variety of different packages or levels of service, allowing them to meet each organisation's unique needs. When choosing a provider, pay close attention to the Service Level Agreement (SLA) for each option.  
SLAs outline the services the provider commits to delivering, which may or may not include the functionality you require. Carefully review the SLA before signing, and check whether the provider allows you to scale services up and down should your needs change.
How much does it cost to outsource payroll?
In the UK, when it comes to outsourcing payroll, the costs can vary considerably.  From the size and structure of your business to the number of employees you have, and the level of payroll support you require, there's a lot to consider.  
Typically, the cost is calculated per employee on a monthly or per payslip basis and according to the latest research, ranges anywhere from £2 to £25 per employee. Small organisations with more basic payroll requirements will likely be on the lower end, whereas larger businesses with more complex payroll structures and additional requirements such as integrated HR services or pension plan auto-enrolment will likely be on the higher end of this estimate. 
Given how different each business is in terms of their employment contracts and payment structures, this will also be reflected when it comes to calculating payroll outsourcing costs. Varying factors could include number of employees and the pay frequency of those employees including any differences in this (if you have some hourly rate and some salaried staff for example or very different contract terms). 
Since many outsourced payroll service providers offer customised pricing, it's a good idea to compare quotes to ensure you get the best deal and speak to a payroll expert from your shortlisted providers to better understand what is appropriate for your budget, now, and in the future.
How to choose the right outsourced payroll provider
Once you've decided that payroll outsourcing is the right choice for your business, it's time to choose a provider. Selecting the right provider is crucial to ensure that you get access to all the payroll outsourcing benefits and functions you're looking for. 
With so many providers on the market, it can be hard to choose between them. We've put together 6 simple steps for you to follow to help you to make an informed decision. 
1. Consider your needs and budget: Start by identifying your organisation's specific requirements and budget constraints. This will give you essential information to start shortlisting potential providers. 
2. Get proposals from multiple providers: Don't just choose the first provider you come across, or the one with the cheapest offer. Obtain proposals from several different providers to compare the services and costs and find the right balance for your needs. 
3. Check reviews: Research different providers online and read reviews to learn about the experiences of other businesses.  
4. Understand their customer support reputation: When checking reviews and comparing packages, pay particular attention to information relating to the speed of support and customer service provided, along with accuracy of pay runs. 
5. Check the security of your data: Make sure that your data is secure with the chosen provider by reviewing their security policy. It's also a good idea to speak directly with a sales representative, who will be able to answer any specific questions you have. 
6. Review the contract: Carefully review the terms and conditions in the contract before signing. This includes making sure that the Service Level Agreement (SLA) includes everything you're expecting, and whether the pricing plan offers easy scalability. You want to ensure your contract terms are suitable for your requirements now but also in the future to avoid being stuck with a provider further down the line that cannot provide the level of scalability you require or is charging significantly more to do so. 
Get payroll peace of mind
Payroll outsourcing offers a multitude of benefits, from saving time and money to ensuring compliance and boosting employee satisfaction. However, as with any other business decision, there are many important considerations when deciding how to outsource payroll, including cost, data security, customer support and the specific functionality your organisation requires. 
Making the right decision about payroll outsourcing can transform your business operations and enhance your overall efficiency and productivity.
Additionally, you can start your journey toward efficient and stress-free payroll management by getting in touch with our payroll experts to discuss your requirements. 
Book a discovery call